St Tropez Tanning
Why St Tropez?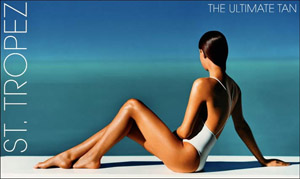 It doesn't turn orange.  Our special formulation ensures a golden brown colour!
You can see where you are applying St Tropez.  A dark brown guide colour means that you can see where the tan is going!
It doesn't streak!  St  Tropez tans to one strength.  If your body is covered in product, your tan will be even.
You can have the desired colour! St Tropez can be custom blended to make sure your hands, feet and face are not too dark.
A natural colour! The results give the most natural looking tan possible for a bottle. 
Treatment includes a full body exfoliation prior to tan application to ensure the perfect tan.  When booking a St Tropez always do your waxing or shaving the day before and wear dark loose clothing to avoid staining.
Half Body Spray Tan £15.00
Full body Spray Tan £25.00
Full Body & Exfoliation £30.00