Hot Lava Shell Massage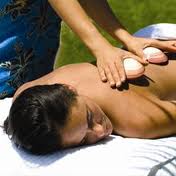 This unique massage treatment offers all the benefits of hot stones, but uses heated tiger clam shells from the tropical philippines. Making it echo friendly and transporting you to the tropical beaches and relaxing you into a blanket of warmth. As the therapist glides the hot shells over your body, the pressure and the heat will ease away any stress or tension you may be feeling, leaving you floating and totally relaxed.
This massage treatment is for anyone wanting to feel soothed and relaxed or for someone wanting a firm deep massage. The heat and the shape of the shells allows the massge therapist to work deeper into the muscels than with oils and hands, making this massage perfect for everyone.